Pocket Parks
---
Pocket Parks - the little niches to linger
We spend most of our lives indoors. We have become the "indoor generation" and this has a significant impact on our well-being. We have started to leave nature behind, we light our living spaces with artificial light, social contact is rare. That is why green — in urban setting — is more important than ever. In the past, the streets and squares of our cities were considered the centre of social life. They were salons and news exchanges, places for communal dining, for festivities and everyday life. They were an extension of one's own living room. Then, for a long time, traffic dominated our cities.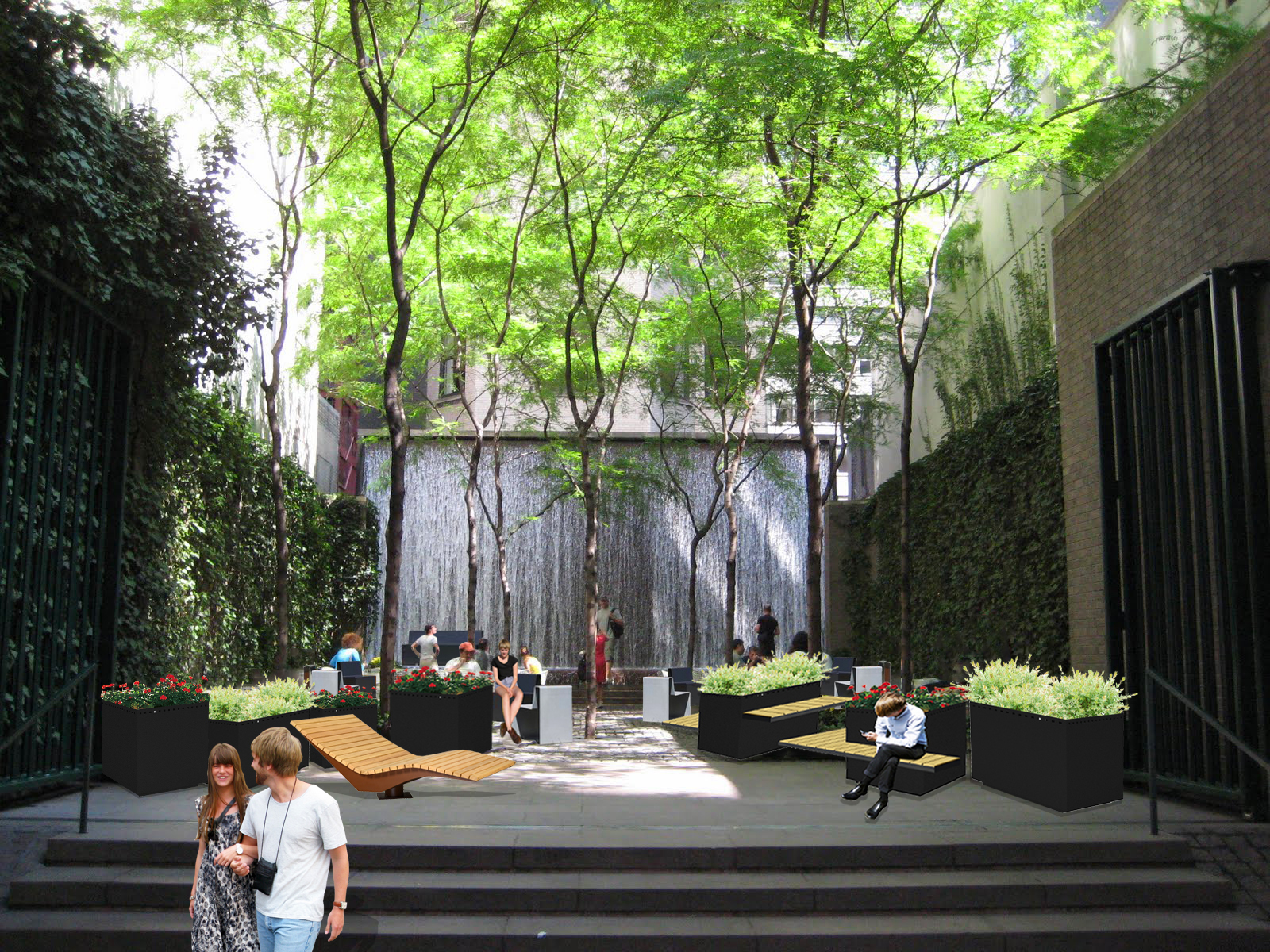 A new type of open space is born
Pocket parks & green oases
For a few decades now, people have started to focus on the pedestrian again, pedestrian areas are being created and efforts are being made to improve the traffic situation in the city centre.
It is particularly important to create so-called "quiet zones" - by arranging big planters and seating elements. In this way, an area is separated and protected from the rest of the street, creating a space within a space. These new types of open space are also called POCKET PARKS.
A pocket park (also known as a parkette, mini-park, vest-pocket park or vesty park) is a small park accessible to the general public. They are frequently created on small, irregular pieces of land, in vacant building lots, along the centers of broad avenues, or even in parking spots.
Pocket parks can be urban, suburban or rural, and can be on public or private land. Although they are too small for physical activities, pocket parks provide greenery, a place to sit outdoors, and sometimes a children's playground. They may be created around a monument, historic marker or art project.
In highly urbanized areas, particularly downtowns where land is very expensive, pocket parks are the only option for creating new public spaces and green oases without large-scale redevelopment. In inner-city areas, pocket parks are often part of urban regeneration plans and provide areas where wildlife such as birds can establish a foothold. Unlike larger parks, pocket parks are sometimes designed to be fenced and locked when not in use. By creating small parks with plants, flowers and trees, an additional temperature reduction is achieved. This in turn contributes to a pleasant urban climate.
We are happy to help you develop and realize your ideas. A mix of shade elements, loungers, seating islands, big planters and small outdoor offices can be used to create cozy Pocket Parks.
The illustrations below are for illustrative purposes only. For a larger view, click on the respective image.